In a game against the Baltimore Ravens, Saints QB Taysom Hill suffered a fractured finger on his throwing hand. Despite the injury, and with only one healthy quarterback available in Drew Brees due to injuries and suspension, he decided to play through it rather than go down with an incomplete pass or two. Many are fearing that this will result in further damage as well as mistakes which could cost the team victory.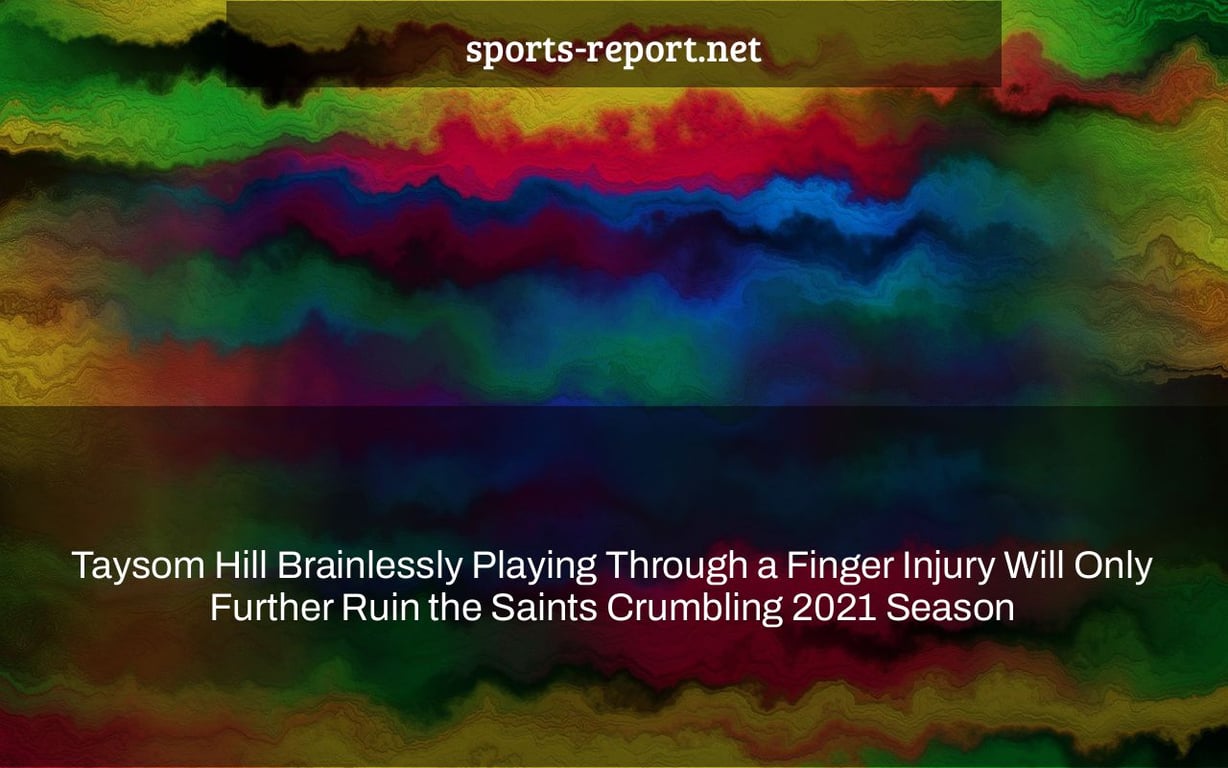 After weeks of experimenting with career backup Trevor Siemian at quarterback, the New Orleans Saints have decided to go with Taysom Hill as their new starter. Hill was the Saints' undisputed starter only days after signing a large contract deal, and he wasn't about to be eased into it.
The Dallas Cowboys were his first opponents. Needless to say, Hill's plan did not work out.
Against the Dallas Cowboys, Taysom Hill had a terrible game.
In Week 13's Thursday Night Football matchup against the Cowboys, the Saints were forced to put their long-running Taysom Hill experiment to the test. The burden was on Hill and Hill alone since the team was without star running back Alvin Kamara and both starting tackles.
The Cowboys defeated the Saints 27-17, and Hill had one of the worst performances by a starting quarterback in the NFL in a long time. He concluded the night with a whopping four interceptions, thereby squandering his team's chances.
Hill did manage two touchdown passes for a total of 264 yards and 101 yards on the ground. The four turnovers, on the other hand, were much too much to overcome. When a quarterback plays with that much carelessness behind center, it's almost difficult for an NFL team to win games.
For Hill, Sean Payton, and the Saints organization, the whole incident served as a big wake-up call. Hill seems to have been kept in their back pockets as a kind of hidden weapon, ready to be used when the going got rough. In truth, he's a thrower on par with Trevor Siemian.
Taysom Hill is nursing a serious finger injury.
According to a source, Saints' doctors decided that QB Taysom Hill sustained a mallet finger injury on Thursday, but it will not need surgery since it is not as severe as Russell Wilson's injury earlier this year. Hill will now attempt to play despite his injuries.
December 3, 2021 — Adam Schefter (@AdamSchefter)
If Hill's abysmal performance against the Cowboys wasn't enough to convince you to stay away from the Saints in the future, the team's newest injury news should.
Hill tore a tendon in his throwing hand during the Thursday defeat, according to reports.
Hill injured his finger against the Cowboys on Thursday night, and he tore a tendon in the finger, according to reports on Friday. Hill was said to be considering finger surgery in that story, but it doesn't seem that will happen.
According to ESPN's Adam Schefter, physicians have ruled that the mallet finger injury does not need surgery. Russell Wilson of the Seattle Seahawks had surgery after sustaining the similar injury, although according to the source, Hill's damage was less serious and Wilson also had additional finger injuries.
Pro Football Talk's Josh Alper
Hill's dismal performance versus Dallas might be due to a damaged tendon. The following news, on the other hand, should send Saints fleeing for cover (no pun intended). Moving ahead, New Orleans wants its already-struggling quarterback to play through the injury.
The Saints want their quarterback to play despite his ailment.
Jonathan Bachman/Getty Images/Taysom Hill
Hill's tendon does not need urgent surgery, according to ESPN's Adam Schefter. This implies he'll have to play through the pain in the future.
This also indicates that, barring a change in plans, Hill will continue to be the Saints' starting quarterback in the future. When he was healthy, he was already having trouble performing. Now he's being expected to do so when his throwing hand is injured?
In the end, the Saints' 2021 season seems to be over. Their offensive is unable to stay healthy, and their quarterback position is a total disaster. The current revelation about Hill playing despite a ruptured tendon is the icing on the cake. The Saints have reached the end of their season.
Pro Football Reference provided all stats.
The Cowboys are in serious danger of losing a pair of key offensive weapons this offseason, which might jeopardize Dak Prescott's ascension to stardom.
Watch This Video-